Périgord Noir
"Perigord Noir" is located at the South-East of Dordogne, around its capital: Sarlat, medieval town. It is the oldest appellation of the 4th Perigord (Noir, Blanc, Poupre and Vert), its name comes from the very dark oak forest.
This country that has maintained its welcoming qualities and good living, own many treasuries:
Perigord Noir has the highest density of protected or classed monuments after the city of Paris.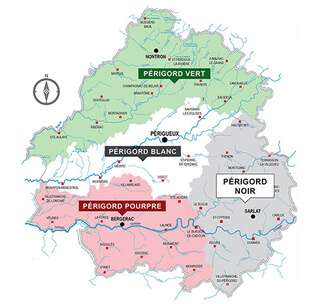 A campsite in the heart of tourist sites
Our campsite in Dordogne is ideally located for discovering the riches of Périgord.
The black outline on the map represents a distance of 20 minutes by car from the campsite. As you can see, you will not be able to discover everything during your stay, you will have to come back !!!
The other Perigord asset is, of course, its gastronomy
It will be difficult for you to resist cepes, conserve of goose, "foie-gras", truffle and others treasuries of culinary tradition that Perigourdins have maintained during centuries.
We can advise you on good restaurants or farm inns as well as trusted local producers.
"Perigord noir" is composed of hills and chalky plateaux. Water erosion has created along the years many gulfs and caves. Those cavities have be used by our ancestors that where living in the country 40 000 years ago. They have left an unique and priceless heritage (like the famous cave of Lascaux).
The village of "Les Eyzies de Tayac" concentrate such a density of prehistoric sites that is considered as the " world-wide Prehistory capital".
Périgord counts the greatest number of castles in France, they would be more than 1000. Their construction started at the XI century, in "strategic" places (rocky outcrops dominating the valleys) where it was possible to control the passage. Until the end of the Middle Ages, Périgord was cut into two parts, politically (during the one hundred year old war, the Dordogne river separated the kingdom of France from the kingdom of England) and religiously (during the wars of religion between Catholics and Protestants). This explains the impressive number of strong castles, villages and churches strengthened. Along the history and due to successive destructions and rehandlings, their aspect evolved much, passing from the austerity of the Middle Ages with a purely defensive role, with comfort and the light brought to the Rebirth.
Also take the time to visit the picturesque villages bursting with color, to stroll from alleys to markets.
The Périgord Noir has several "most beautiful villages in France".
Saint Léon sur Vézère     
Belvès   
Monpazier   
Sarlat
La Roque Gageac   
Castelnaud La Chapelle   
Limeuil   
Les Eyzies
Beynac et Cazenac   
Domme   
Saint Amand de Coly   
The limestone cliffs of Périgord also allowed the inhabitants of the Middle Ages to build dwellings, fortresses, and sometimes entire villages built out of the rock and overlooking the Périgord valleys. Learn the construction techniques of these habitats and discover the daily life of these inhabitants.